Many communities along the U.S.-Mexico border generally rely partially or completely on transboundary aquifers for industry, agriculture, and drinking water, however, information on water needs, water quality, and the extent and functioning of these aquifers is incomplete. The surface water supply in this region is limited and typically fully appropriated, and alluvial aquifers connected to these surface water bodies are critical for maintaining public supply. Jurisdictional oversight of transboundary groundwater resources is managed by a variety of local and national entities.
Major population centers within the project study area include:
El Paso, Texas,
Las Cruces, New Mexico,
Ciudad Juárez, Chihuahua,
Nogales, Arizona, and
Nogales, Sonora.
Recognizing the need to systematically assess priority transboundary aquifers along the U.S.-Mexico border, the 109th Congress of the United States enacted the "United States-Mexico Transboundary Aquifer Assessment Act" in 2006 as Public Law 109-448. This law was followed by binational negotiations that led to the 2009 signing of the "Joint Report of the Principal Engineers Regarding the Joint Cooperative Process United States-Mexico for the Transboundary Aquifer Assessment Program." This document, which was signed by US and Mexican Principal Engineers serving on the International Boundary and Water Commission (IBWC), established the authority and framework under which personnel in the United States and Mexico could jointly study shared aquifers.
Objectives of the Transboundary Aquifer Assessment Program (TAAP) include:

Develop binational information and shared databases on groundwater quantity and quality;
Identify and delineate transboundary aquifers of importance;
Develop binational criteria for determination of priority transboundary aquifers;
Assess the extent, availability, and movement of water in transboundary aquifers and the interaction with surface water;
Develop and improve groundwater-flow information for binational aquifers to facilitate water-resource assessment and planning;
Analyze trends in groundwater quality, including salinity and nutrients;
Apply new data, models, and information to evaluate strategies to protect water quality and enhance supplies; and
Provide useful information to decision makers, including assessments of groundwater management institutions and policies.
Ongoing projects under TAAP represent a collaboration among the U.S. Geological Survey Water Science Centers and the Water Resources Research Institutes of Arizona, New Mexico, and Texas. Furthermore, IBWC facilitates bilateral projects and collaboration with universities and federal agencies in Mexico such as the Comisión Nacional del Agua and Universidad de Sonora. Currently, identified priority transboundary aquifers include the Hueco Bolson and Mesilla Basin in Texas and New Mexico, and the Santa Cruz and San Pedro aquifers in Arizona.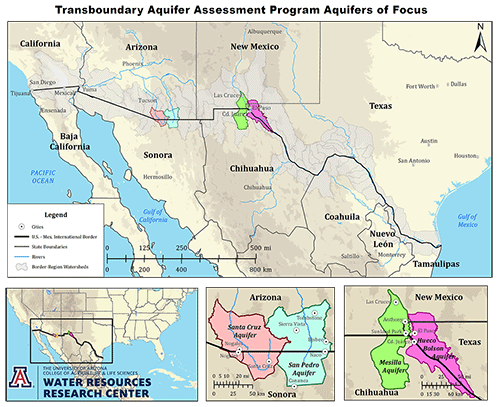 Transboundary priority aquifers. Click for full size map.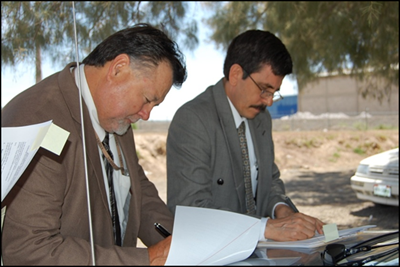 IBWC Principal Engineers Antonio Rascón (right) and John Merino (left), sign the "Joint Report of the Principal Engineers Regarding the Joint Cooperative Process United States-Mexico for the Transboundary Aquifer Assessment Program", August 19, 2009.