California Oil, Gas, and Groundwater Program
Methane in Los Angeles Area Groundwater from Microbial Sources
Monitoring programs are often scaled to fit available funding by reducing the number of lab analyses performed on water samples. This practice can, however, result in studies that fail to answer resource management questions. A staged approach where a full suite of possible constituents was analyzed in a small set of samples first, followed by a targeted set of analyses in a larger sample set is an approach that can avoid such problems.
In 2014, USGS scientists performed this kind of methods test using a comprehensive suite of analytes identified in the literature as being useful for distinguishing between water quality conditions from oil and gas development, naturally occurring hydrocarbons, and surrounding groundwater systems.
Samples of groundwater were collected from the areas extensively managed by the Water Replenishment District of Southern California and in proximity to oil fields in the Los Angeles Basin. The initial results showed surprisingly high concentrations of methane gas.
Methane concentrations in Los Angeles groundwater are of public concern because there have been past incidents of explosions caused by methane accumulations from leaking oil wells/ fields. It is critical to better understand if groundwater methane concentrations are associated with oil fields.
Because the lab analyses included measuring hydrogen and carbon isotopes of methane, and longer-chained hydrocarbons such as ethane and propane, additional lines of evidence were available. These enabled scientists to determine that methane in these groundwater samples comes from aquifer microbial activity in anoxic or low-oxygen conditions—and not upward migration of methane from oil field leaks.
This study was not a statistically rigorous evaluation of the extent of either microbial or oil field-related methane in the basin. It does, however, suggest that 1) high concentrations of methane in groundwater can result from microbial activity in aquifers, and that 2) isotopes of light hydrocarbon gases should be included in any monitoring effort where differentiating between microbial and oil-derived methane is a key question.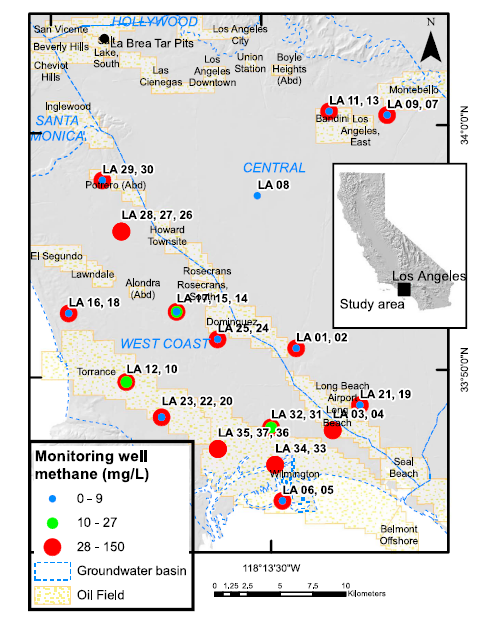 Map showing location and relative concentrations of methane in groundwater at multiple depths. Labels next to points correspond to study well numbers, ordered from shallowest to deepest well. The symbol for shallower wells plots on top of that of deeper wells and is generally smaller as methane concentrations typically increase with depth with the following exceptions: site LA23, 22, 20, methane was highest in the shallowest well; site LA 17, 15, 14, methane was intermediate in the shallowest well, lowest in the middle well, and highest in the deep well. If a single symbol is shown at a monitoring site, all wells at that site had methane concentrations in the same range.
Kulongoski and others, 2018